I went to the doctor for my 4 week check yesterday and I was finally able to hear my baby's heartbeat! It was so exciting!
I have been reading way too many posts about miscarriage in the September 2009 birth board on
BabyCenter
. It seems like an extraordinary number of women have had miscarriages. This may have happened on the May 2006 board as well, but I didn't find
BabyCenter
until after
Aiden
was born. I know I should just skip these threads, but I'm drawn to them. I feel like it would be worse not knowing. But then I get so paranoid. I went to my appointment yesterday fully not expecting to hear a heartbeat. When the doctor finally found it and it was 152
bpm
, I was ecstatic. I couldn't stop smiling for the rest of the day!
I have my 20 week ultrasound on May 1. I can't wait. It seems like forever from now! We hope to find out what we are having at that time, but until then, I'm having fun with the gender prediction tests!
I've read the Old Wives' tale that a heart rate over 140 is a g
irl
and under 140 is a boy. Then I found a site called
BabyBPM
. It takes in the fact that the heart rate changes throughout pregnancy; starting out slow, speeding up, and then leveling off. So, this site tries to compare the baby's heart rate with the average for that gestational age. Here are my results: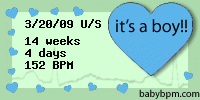 I know this test isn't very accurate because researchers have shown that there really isn't that much difference between the heart rates of a boy and girl, but it's still fun! And interesting that it says the same thing as
Intelligender
! I still say I'm having a girl....